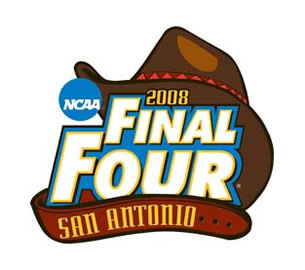 So tonight concludes one of the best if not the greatest annual sporting event: The NCAA mens bball tournament. started with 64, now down to 2. Tonights matchup between Kansas and Memphis comes as a suprise to many, as the popular picks UCLA and UNC we're elimated in their semifinal games. The tournament this year did not fail to impress once again..there were some great upsets, great players, great games, and great last second shots. It was suprising to see the last 4 teams all be 1 seeds, i guess it was the first time ever. I enjoyed watching Stanford, but another dissapointing tourny showing..It was fantastic to see DUKE lose early, and UCLA put on a hell of a show. tonites game should be pretty good. Memphis seems to have the momentum and everyone favors them. both teams r real deep and both consists a unbeievable atheltes including my favorites Brandon Rush(kansas) and Derrick Rose (memphis).
MY PICK: KANSAS i really could care less who wins, i just want a good game, but for the sake of just a final game..im gonna pick a team.
also stay tuned after the game for One Shining Moment featuring all the highlights from the tourny..as well as a great background song.
Parting video: amazing dunk by Patrick Ewing Jr. of Georgetown
on a professional note: GO WARRIORS